The Summit Client Experience
Complexity Meets
Experience and Efficiency
Our methodologies and services are designed to simplify complex situations seamlessly with your goals—no matter the changes in your life—leaving you to focus on living your best possible life during and after your career.
There are Three Ways We Work with Our Clients
Sometimes all you need is a specific product or service to round out your already-in-place plan. The cost of a comprehensive plan does not make sense in these situations, and we take an unbiased approach to find the best fit for you.
Designed for clients who want a flat fee financial plan. As your financial advisor, we operate under a fiduciary standard, giving you straightforward guidance to help get your entire financial life in order.
Our WEALTH ELITE process is everything from WEALTH BASIC but for a more complex client. We incorporate coordinating with your other advisors such as CPAs and estate attorneys to build a comprehensive financial plan. WEALTH ELITE brings everything together under one clear path and gives you ongoing access to our team and partners year after year.
Neither MML Investors Services, LLC nor any of its subsidiaries, employees or representatives are authorized to give tax or legal advice. Consult your own personal attorney, legal or tax counsel for advice on specific legal and tax matters. Strategic Alliances are not exclusive relationships. You are free to choose your own professional for these needs.
SIX STEPS TO A FINANCIAL PLAN
Clients are free to implement the plan recommendations with the financial professional of their choice. Periodic reviews or updates require a new agreement and may be subject to additional fees.
Overview of the Software We Use
Wealth Building Cornerstones    
A clear picture of the impact our services can have on your financial future.
WBC utilizes the Two Economic Powers™ approach in personal planning. This approach identifies and incorporates the foundational powers of personal finance that were always meant to work together in proper balance for efficient accumulation and distribution of money.
eMoney
A leading wealth management and financial planning software
The client portal is a welcoming, detail-rich, and interactive asset, which displays all wealth-management-relevant information, like net worth, investments, insurance, budgets, and spending in a way that delivers maximal transparency, while minimizing navigation difficulty. Also, the client portal facilitates the aggregation of assets and accounts we don't manage, which helps us get a clearer picture of your financial life.
Interactive Planning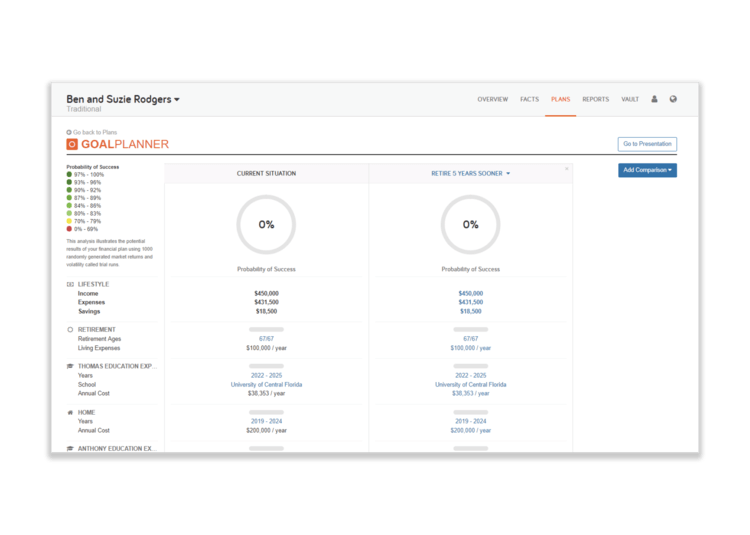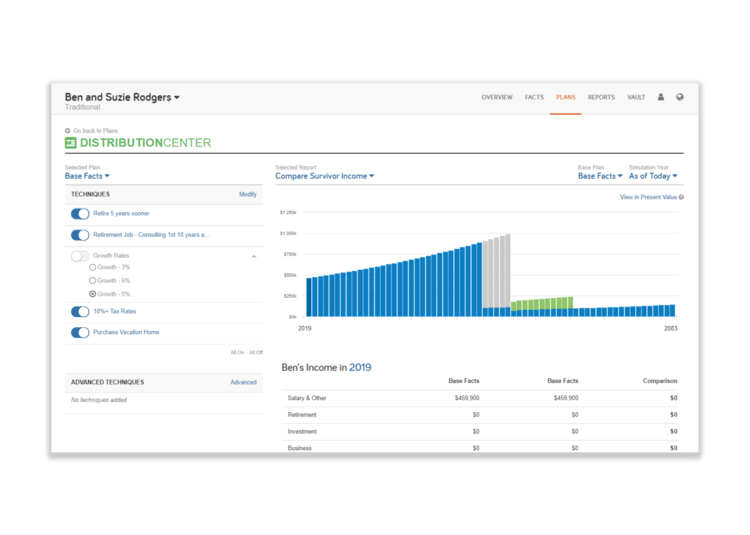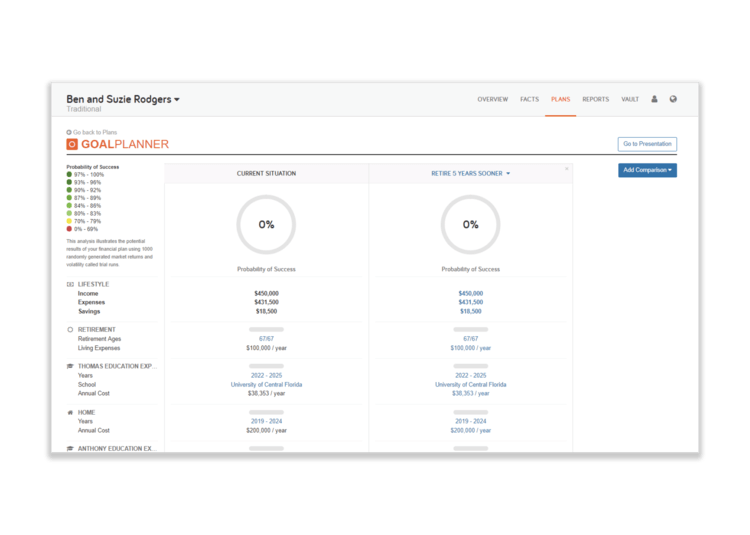 Goal-Planner
for conventional retirement and education planning
Decision Center
for cash flow-centric planning.
Distribution Center
for estate planning.
Investor360°®
With a single log-in, Investor360°® provides you access to all of your account information and investment performance data. 
You can:
See your account balances and a detailed position breakdown for each account as of any date range, including accounts not held with us.
View balances and positions for all your accounts held with us in one easy-to-read, consolidated report.
View actual investment performance vs. an appropriate benchmark for any date range for all accounts held with us.
Check on recent transactions within your accounts.
Link to other accounts, such as your spouse's or children's, held with us. (Restrictions may apply; contact us for details.)
Review important facts, such as your account setup and contact information, listed beneficiaries, and other named individuals.
View important documents you have stored in a secure document vault.
Eliminate paper statements and view or download current and historical account statements and trade confirms online.
Get real-time price quotes and charts for traded securities.
Run in-depth reports to get even more information on your accounts.
Import account information to TurboTax for easier, more efficient tax filing.